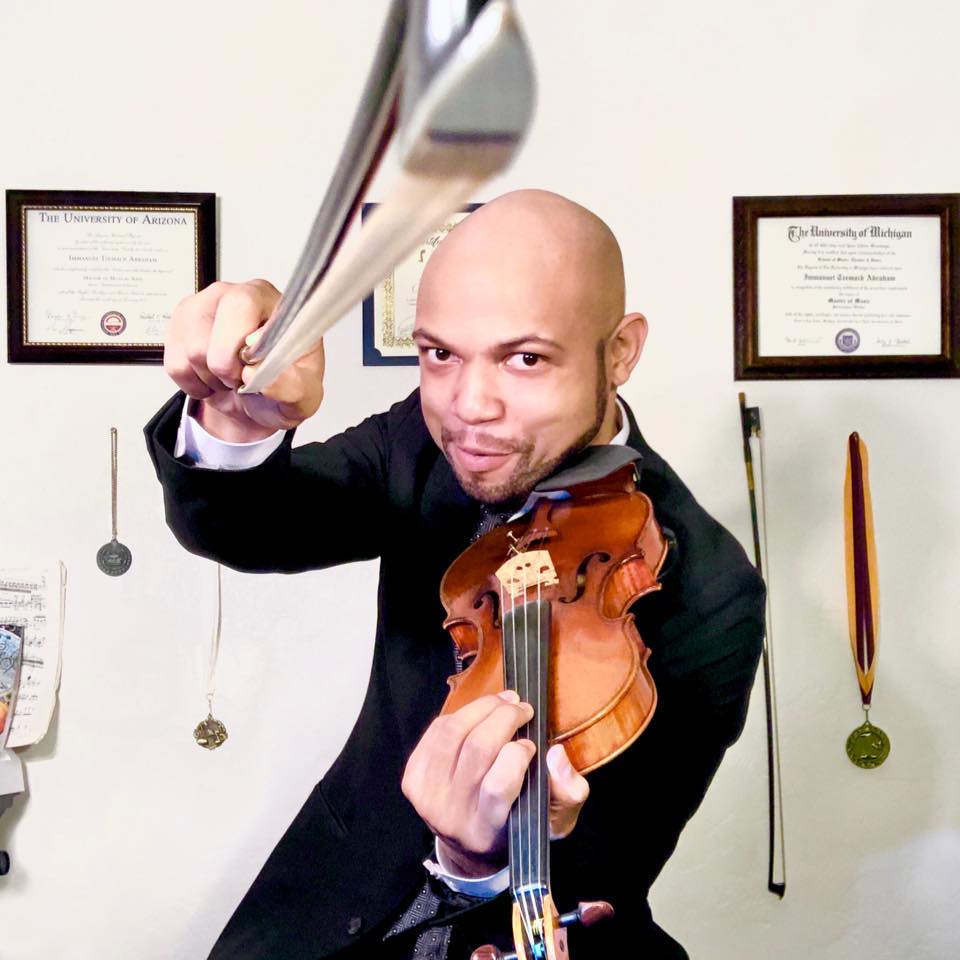 Immanuel Abraham, violin
Wednesday, November 4, 2020 at 6:00pm
American violinist, Dr. Immanuel T. Abraham, is an award-winning performer, composer, masterclass clinician, and pedagogue. He has toured seven countries, and has been a featured artist for PBS, CBS, Blue Lake Public Radio, American String Teachers Association magazine, Southwest Strings, Fiddlershop's "Music is for Everyone", The Entertainer Magazine, Shar Music Company, Mind Over Finger, Violin Podcast, Arizona Daily Star Newspaper, Lovin' Life in Tucson Newspaper, The Arizona Jewish Post Newspaper, the Tucson Film Festival, and much more.
His versatility as a performer spans many genres. He has served as the Concertmaster for the Annual Concert Without Borders at the Douglas/Agua Prieta port of entry, the Michigan Pops Orchestra, the Arizona Symphony Orchestra, the Arizona Contemporary Ensemble (ACE), Monmouth Symphony Orchestra, MuseArt, and Opera in the Ozarks. In recent years, Dr. Abraham also opened for We The Kings, Ben Folds, HelloGoodbye and numerous other popular bands. For these, in addition to their sets, he invariably plays his own original compositions on his 5-string electric violin, custom-designed by Ned Steinberger.
Dr. Abraham is the author of "J.S. Bach's Chaconne: A Performer-Composer's Approach to Interpretation", and composer of the "Abraham 24 Caprices for Solo Violin". He has also written complete theatrical scores, three milti-movement string quartets including "The Gilgamesh Quartet" and "Codex Janus Quartet" (reviewed by SHAR). He is also the founder and director of The Violin Guild, and artistic ambassador of Southwest Strings, WMutes, and Ovation Press. His instagram, @TheViolinDoctor, engages 20,000 followers. Dr. Abraham is an active advocate of world kinship through the arts, social equality, and environmental proactivity.