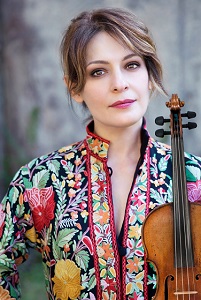 Violin soloist Irina Muresanu visits Key to Change to work with students on their violin and viola repertoire. This event is Friday, Nov. 2 at 5:30pm at Mill Creek Middle School.
Romanian violinist Irina Muresanu has won the hearts of audiences and critics alike with her exciting, elegant and heartfelt performances of the classical, romantic, and modern repertoire. Muresanu has performed in renowned concert halls throughout North America, Europe and Asia. Her solo engagements include concerts with the Boston Pops, the Miami Symphony Orchestra, the Williamsburg Symphonia, the Orchestre de la Suisse Romande (Geneva), the Transvaal Philharmonic (Pretoria, S. Africa), the Romanian National Orchestra, the Orchestre de la Radio Flamande (Brussels), and the Boston Philharmonic, among others.
In 2013, Irina introduced her "Four Strings Around the World" project, a solo violin recital featuring works of composers inspired by various musical cultures around the world. "Four Strings Around the World" sparked an orchestral project called "Strings Across Europe," a program in which Muresanu performs multiple roles as soloist and conductor.
Irina currently serves on the faculty the University of Maryland and has taught at Boston Conservatory and in the Harvard and MIT Music Departments. She received the prestigious Artist Diploma degree and a Doctor in Musical Arts degree from the New England Conservatory.  She plays an 1849 Giuseppe Rocca violin and an Étienne Pajeot bow.