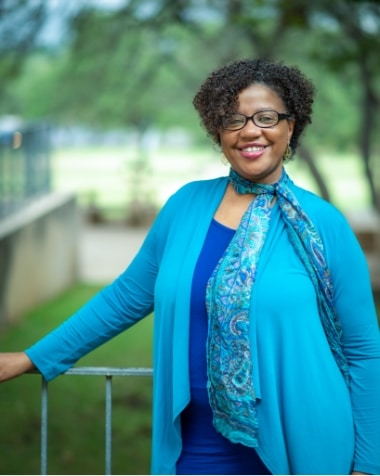 Wednesday, September 29, 2021 at 7:00pm
Dr. Nicole Cherry is Assistant Professor of Violin at The University of Texas at San Antonio and second violinist of the award-winning Marian Anderson String Quartet. Dr. Cherry has performed extensively in distinguished venues including the Library of Congress, the Kennedy Center, Lincoln Center, Carnegie Hall, the Smithsonian, and the Banff Centre. A solo tour of the Middle East and Asia included performances before the Queen Noor of Jordan and in underdeveloped townships in Johannesburg during Apartheid.
Dr. Cherry served as artistic director of the Marian Anderson String Quartet Chamber Music Institute held in the underserved areas of Brazos Valley, Texas, as well as in St. Thomas,Virgin Islands. In recognition of this outreach with the quartet, Dr. Cherry garnered two Mayoral Proclamations, the Congress of Racial Equality's MLK JR. Award for Outstanding Arts Achievement and Chamber Music America's Guarneri String Quartet Award.
Dr. Cherry's doctoral research on the nineteenth-century Afro-European violin virtuoso, George Bridgetower, which explores historical socio-cultural theories in string music has garnered her awards that include Texas Tech University's Paul Whitfield Horn Award and the President's Excellence in Diversity and Equity Award. As a graduate of the Masters degree program, The Juilliard School profiled Dr. Cherry in the Journal's 100th-anniversary issue, "A Quiet Revolution: Juilliard Alumni and the Transformation of Education in America Through the Arts." Learn more about Dr. Nicole Cherry