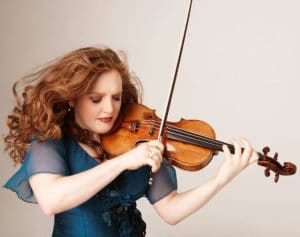 Many thanks to Early Music Seattle, a proud partner with Key to Change, who has generously sponsored this Masterclass with Rachel Barton Pine. 
In both art and life, violinist Rachel Barton Pine has an extraordinary ability to connect with people. Celebrated as a leading interpreter of great classic and contemporary works, her performances combine her innate gift for emotional communication and her scholarly fascination with historical research. She plays with passion and conviction, thrilling audiences worldwide with her dazzling technique, lustrous tone, and infectious joy in music-making.
Pine is an active philanthropist, leading the Rachel Barton Pine Foundation. This past season, the Foundation received international press with the release of "Music by Black Composers, Violin Volume I," the first in a series of pedagogical books of sheet music exclusively by Black classical composers, with additional orchestral instruments to be covered in future volumes. Early in her career, she noted that young people learning classical music seldom have the opportunity to study and perform music written by Black composers. Over the past 15 years, Pine and her Foundation's Music by Black Composers initiative have collected more than 900 works by more than 350 Black composers from the 18th-21st Centuries, representing North and South America, the Caribbean, Europe, Africa, and Asia.
LEARN MORE