The Daniel Ching Scholarship for Musical Excellence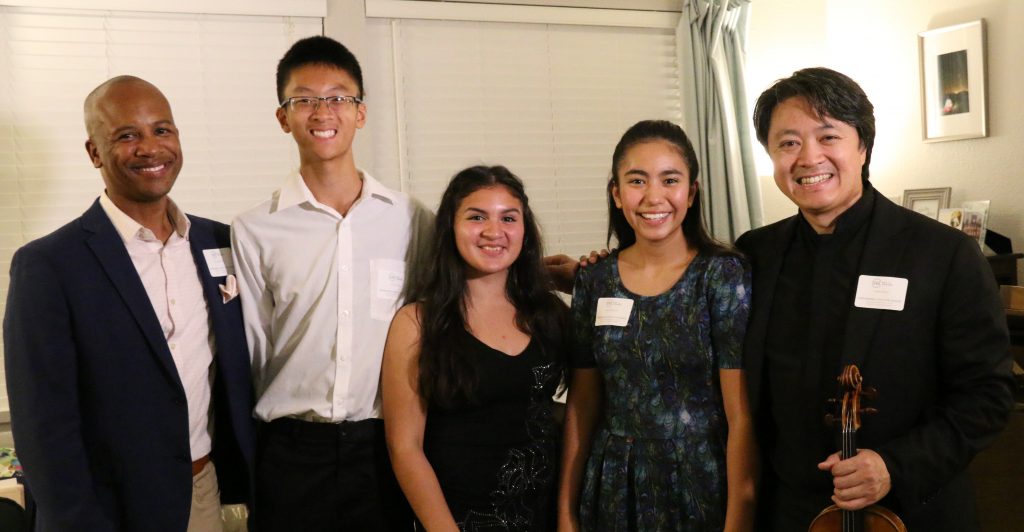 Left to right: Dr. Quinton Morris; Key to Change violin students Richie Doan, Analisa Ruiz, and Alia Uffenorde; Daniel Ching
"I consider myself truly blessed to have had the opportunity to study with Daniel Ching. He is, by far, one of the most remarkable people I have ever met in my entire life. Studying with Daniel during my doctoral studies at the Butler School of Music at the University of Texas at Austin was life-changing for me. I learned life lessons from him which have served me well in my career. He taught me how to think big—how to work hard and smart, while developing self-discipline and an internal compass to gauge my path towards my own success. I certainly wouldn't be where I am without him.
To be in a position where I can name a scholarship in honor of Daniel Ching, which will now impact a multitude of students across South King County, is truly humbling. I am thankful for the lessons he taught me and our friendship for almost 15 years."
– Dr. Quinton Morris, Executive Director & Founder, Key to Change; 1st doctoral violin student of Daniel Ching (2004-2007)

Left: Violinists Daniel Ching, Sandy Yamamoto (wife of Daniel), and Dr. Quinton Morris, Austin, Texas, 2005. Right: Daniel, Sandy and Quinton performing at the launch party of the Empowering Youth for Change Fund, September 21, 2019.
Key to Change is proud to launch our new Daniel Ching Scholarship for musical excellence
Daniel Ching (of the internationally-renowned
Miró Quartet
) is the former violin instructor of Key to Change Founder and Executive Director Dr. Quinton Morris. Daniel played a critical role shaping Quinton's career as a performer and inspiring him to give back to the next generation.
Both artists overcame tremendous hardships on their way to becoming world-class violinists, and the new Daniel Ching Scholarship honors that journey by creating new musical opportunities for underserved students in South King County.
If you would like to donate to the Daniel Ching Scholarship Fund or learn more about this exciting endeavor, please click the button below or contact Dr. Quinton Morris, Executive Director & Founder, (425) 243-3597 or [email protected]
Daniel Ching has touched the lives of countless musicians and music-lovers.
Click here
to read a bit about his impact from those who know him best.
Share this on Social Media