Our Mission: Inspiring underserved youth through world-class music instruction and supporting their development as self-aware leaders.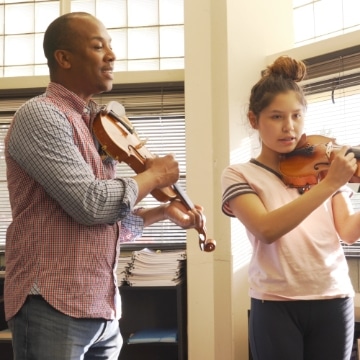 Key to Change students take private, group and ensemble lessons.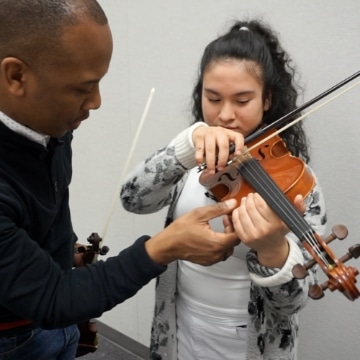 Key to Change violin and viola students participate in master classes taught by guest artists.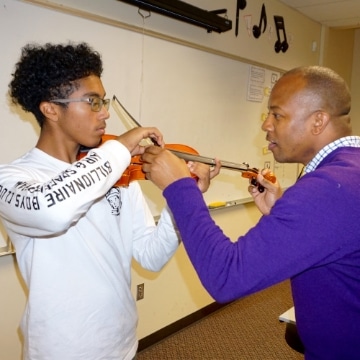 Key to Change students perform in quarterly recitals.
Key to Change is a Washington State 501c3 nonprofit organization that inspires underserved youth through world-class music instruction and supports their development as self-aware leaders. Founded and directed by violinist, educator, and entrepreneur Dr. Quinton Morris, Key to Change strives to dispel the "starving artist" mentality and provide young artists with the educational tools and resources they need in order to grow and thrive as musicians and as individuals.
Key to Change recently launched a violin studio, of the same name, in South King County which serves middle and high school students of color and economically disadvantaged backgrounds in Renton, Kent, Auburn, Maple Valley, and Federal Way neighborhoods. Quinton Morris opened the studio after returning from his 25-city BREAKTHROUGH World Tour, which paired chamber music recitals with educational outreach and community service in under-resourced communities around the globe.
Key to Change studio offers scholarships for students requiring financial assistance.
Click here
to sign up for lessons!
Key to Change serves racially and economically diverse students in South King County through music education and mentorship. Enrollment in Key to Change provides access to a range of programs, including group and private lessons, performance opportunities and scholarships.
At Key to Change, we hold ourselves to the following values in order to deliver and drive our mission:
Artistry
Excellence
Equity
Diversity
Foundation
Inclusion
Opportunity
"As an educator I strive to connect students with the art of music-making and performance, giving them the tools and support they need in order to grow as artists. Throughout my lessons, I help cultivate a spirit of confidence and innovation that will serve students in both their creative and entrepreneurial pursuits. My passion for teaching shines through in my commitment to helping students achieve success on whichever educational voyage they choose in life."
Dr. Quinton Morris enjoys a multifaceted career as a concert violinist, educator, filmmaker and entrepreneur. He performs solo concerti/recitals and chamber music and presents lectures worldwide. He is the founder of Key to Change, a nonprofit with the mission of inspiring underserved youth and students of color through world-class music instruction and supporting their development as self-aware leaders. Key to Change operates two violin and viola studios in South King County, Washington which serve middle and high school students who may not otherwise have access to classical music instruction.
Key to Change was born out of Dr. Morris's BREAKTHROUGH World Tour, which paired recitals and concerto performances with lectures, master classes and educational outreach in over 25 cities across five continents. The tour also featured Dr. Morris's short film The BREAKTHROUGH, which premiered at the Seattle Art Museum and the Louvre Museum in Paris, among other distinguished venues worldwide. He directed and starred in the film, which tells a modernized story of the Chevalier de Saint-Georges: a violinist of African origin who, against all odds, rose to become one of the most prolific and forgotten figures of the 18th century. Governor Jay Inslee awarded Dr. Morris the Washington State Governor's Arts Award for his success with BREAKTHROUGH and the film received the first prize "Diamond Award" at the European Independent Film Award Festival in Paris and the bronze award at the Global Music Awards.
Dr. Morris has received numerous awards including the Puget Sound Business Journal's "40 Under 40 Award," Seattle Mayor's Arts Awards, the Seattle University Provost Award for Outstanding Scholarship and Creative Work, and named a "Mover and Shaper" by Musical America. He is currently the co-chair of the Seattle Arts Commission. He has also presented at American String Teachers Association national conference, Maryborough Music Conference (Australia), the United State Consulate in Australia, the University of Paris-Dauphine School of Business, National Normal Taiwan University, among many others.
Dr. Morris is a Renton native and earned his Doctor of Musical Arts degree from the University of Texas at Austin. He joined the Seattle University faculty in 2007 as Director of Chamber and Instrumental Music and Associate Professor of Violin and Chamber Music. He is the first tenured music professor at Seattle University in over 35 years and the second living African-American violinist in United States history to receive such a distinction. Currently, he is also the inaugural Artist-Scholar in Residence at Classical King FM radio. In his spare time, he enjoys cooking, reading, working out, spending time with his family and rooting for the New England Patriots.
Dr. Quinton Morris, Associate Professor of Violin and Chamber Music, Seattle University
Alex Diaz, Senior Product Marketing Manager, Webflow
Ain Powell, Supervisor-Data Partner, Starbucks Coffee Company
Susan Smith Leland, Asst. Superintendent of Finance & Support Services (retired), Renton School District
Leah Bradford Francis, Senior Program Officer at the Bill & Melinda Gates Foundation
Brenda Barnes, CEO of Classical King FM
Viesta Morris, Office Manager, Office of the Ombuds, King County (retired)
Bernard Ablola, Founder, Think Strategy
Stephanie Ellis-Smith, CEO Phila Giving
Marcie Maxwell, Community Leader
LeAnne Moss, Executive Director of the Renton Regional Community Foundation
Vincent Hernandez, Senior Credit Analyst, PACCAR Financial
Peter Drury, Chief Strategy Officer, Wellspring Family Services
Chris Tugwell, Be Well Consulting
Vivian Phillips, Arts Consultant
Donate Today To Bring World-Class Music Education To The Leaders Of Tomorrow.
Share this on Social Media