Micaela Pearson
President
Micaela Pearson grew up in Anaheim, CA, and is an experienced piano and voice teacher. Micaela was Deputy Executive Director of an organization that brings opera performances to elementary schools in Western Washington. Micaela is passionate about equity and access to music education. In her free time, Micaela loves to garden.
Kymani Thomas
Vice President
Kymani Thomas is a cellist, composer, and improvisor with a commitment to identifying and celebrating difference, building musical bridges between cultures, and promoting new voices and decolonized realities within the framework of art music performance. Energized by the possibilities in new music performance, Kymani has premiered chamber and solo works with the Houston Grand Opera, The Shepherd School of Music at Rice University, The University of Washington, and continues to perform contemporary music with a special focus on womxn and POC composers.
Encouraged to start playing by a visiting string quartet in elementary school, Kymani works to be an advocate for inclusion in the arts for underserved youth. He has taught as a teaching artist through free programs at the University of Maryland, Rice University, the Houston Symphony, and the Seattle Symphony. His principal teachers are Irma Cripe, Evelyn Elsing, and Norman Fischer, and also studied chamber music with the Guarneri and Kronos String Quartets.
Susan Smith Leland
Treasurer
Susan Smith Leland recently retired from a 33-year career in education serving as the CFO for several school districts and most recently serving as the Assistant Superintendent of Finance and Support Services for the Renton School District. She earned her BA from Evergreen College in Liberal Arts and Masters of Education from Seattle University in School Business Administration. During her career she served as a board member and President of the Washington Association of School Business Officials (WASBO), created and served on the Certification Governance Board and was a member of the OSPI School District Accounting Advisory Committee. In addition, Susan attended the Social Change Institute on Cortes Island in B.C. developing new ideas for school/community engagement in the areas of the environment and social justice. Susan was awarded the Outstanding Student of the Year in the School of Education while at Seattle University. She was also awarded the highest honor from WASBO, their Outstanding Service Award and also received their Unsung Heroine Award, given by the Executive Director of the organization. Susan is a flute player and was a member of the Seattle All-City Band for five years. She is married to the love of her life, her husband Rod and has 3 children. They live in Auburn on Lake Killarney.
Mike Schmitt
Secretary

Mike Schmitt is a food scientist working for emulsion startup SōRSE Technology in Seattle, WA. In addition to his background in the food industry, he has also earned an MBA with a finance emphasis, and has 17+ years of industry experience. Mike and Dr. Morris' paths have crossed many times in the past, and Mike was thrilled to be asked to join as a board member. He is looking forward to putting his knowledge, experiences, and his network to use to help such a wonderful and community-centric organization move forward to the future.
Viesta Morris
Board Member
Viesta retired inspired! She previously held positions at King County, the Port of Seattle, and Mount Zion Baptist Church. A graduate of South Seattle College, she is an avid gardener, enjoys all genres of music, collects coins, and unusual rocks. She is mother of two incredible sons — and enjoys spending time with her two companion pets Bella and Gracie.
Matt Byers
Board Member
Matt is the Director of Infrastructure Operations and Security at Seattle University, where he provides technology leadership, information security oversight, and user-friendly communications to improve the tech experience for students, faculty, and staff.  He enjoys "teaching the teachers", finding elegant solutions, and loves lengthy Q&A sessions.  Matt has spent the last 16 years supporting technology in higher education, and also volunteers on the Technology Committee for Legal Voice.  Matt graduated from Seattle University with a Bachelor of Science degree in Biochemistry and BA in Humanities, and currently lives in Seattle with his wife, two kids, and three guitars.
Ain Powell
Board Member
Ain Powell is the Manager of Partner Networks (Employee Resource Groups) at Starbucks Coffee Company. A true 'Local Girl', Ain's roots in the Seattle community run deep, always with a lens for inclusion. Ain's passion for mentorship and education are aligned with Key to Change's mission and she is committed to supporting each participant's holistic development as self-aware leaders. Ain's lives in Seattle with her two wonderful children Adam and Naomi and enjoys learning everyday. Her Motto: When you know better, you do better.
Alex Diaz
Board Member
By Day: Alex Diaz is a Senior Product Marketing Manager for the web development platform, Webflow (previously Global Marketing Manager at Uber), with 9+ years working across a wide range of industries — from startups, ad agencies, and Fortune 500s — focused on go-to-market strategies, driving the strategic marketing framework among internal groups, and executing growth marketing tactics for products and brands. By Night: creative cooking enthusiast, amateur mixologist, and observer of global cultures + social behavior around tech, motivation, and communities. In-between: Executive Committee member for Minds Matter Seattle, member of the UW Communication Department Alumni Board of Advisors, and (previously) a long time advisory board member to Key to Change Studio before joining the Board of Directors.
Geoffrey Liu
Music Instructor and Coach
A software engineer by trade and a musician at heart, Geoffrey Liu began studying piano at the age of 7, and three years later, picked up the violin. He found his passion for classical music at the age of 13, after listening to a recording of Beethoven's Waldstein piano sonata. Since then, Mr. Liu has been active in his musical community as a pianist, violinist, and violist. In high school, he was the recipient of numerous awards, including a three-time honorable mention at the Northwest Chopin Festival, and a first place prize at the 2012 WMEA Solo and Ensemble Contest. As a result of winning the latter competition, Mr. Liu was invited to perform his solo at Benaroya Hall in Seattle, an experience he still cherishes as one of his most memorable performances.
Mr. Liu continued his music education at the University of Washington, graduating in 2016 with a major in Computer Science and a minor in Music. During his time at the university, he studied piano with Dr. Dainius Vaicekonis, and regularly performed with the UW Symphony Orchestra on violin and keyboard. He was twice the recipient of a music scholarship, and was a finalist in the 2013 UW Concerto Competition.
After college, Mr. Liu moved to California, where he was an accompanist at the Community School of Music and Art (CSMA) in Mountain View, regularly accompanying students of all ages and for a diverse variety of musical styles. He was also a keyboardist, violinist, and violist with Redwood Symphony, an all-volunteer orchestra in the Bay Area known for performing and premiering ambitious works across the musical repertoire.
Aside from his career aspirations, Mr. Liu enjoys hiking, photography, and travel. He currently resides in Seattle, a place he has considered home for the majority of his life.
Caleb Vaughn-Jones
Composer in Residence
Caleb is the inaugural Composer-in-Residence at Key to Change. He composes original works for both violin and viola for string students of all musical levels that they will perform virtually in the Spring Recital of 2021.
Caleb Vaughn-Jones has also composed pieces for cello that push the boundaries of the instrument. His compositions display his unique life experiences, embodying traditional classical music, American folk, and distinct rhythms and harmonies from the African continent.
Caleb's performance career began as a touring chamber musician. He has collaborated with actors and appeared in plays such as "Melancholy Play" by Sarah Ruhl and the US premier of Euripides' "Ion" at the Shakespeare Theater in Washington, DC. Caleb also appeared on screen in the major-motion picture "Step Up" (2006). In 2010, Caleb was the featured cello soloist with the Prague Filmharmonic on the soundtrack of Civilization V, composed by Geoff Knorr.
Caleb lived in Port Elizabeth, South Africa for 9 years. During that time, he served as the principal cellist of the Eastern Cape Philharmonic Orchestra. In 2018, he held artist residencies at the University of Pretoria's UP 4 Strings program and Kingswood College. Caleb is a 2018 recipient of a Sphinx MPower grant from the Sphinx Organization in Detroit, Michigan.
In 2019, he was commissioned by Nelson Mandela University to compose and produce a recording for the art exhibition entitled "Provoke/Ukuchukumisa/Daag-Uit". For this commission, Caleb produced the title track "Rite of Passage," depicting the journey of Nelson Mandela throughout the African continent as he sought foreign governmental support for the Anti-Apartheid Movement.
He is the Founder and Executive Producer of Regulus Sound Productions, which produces music for Firaxis Games and other film and TV companies.
Caleb is the founder of www.thefuturemuse.com, a blog dedicated to helping musicians learn more about the music business, recording tips, and bits of advice that he learns from his own experience.
He currently lives in Los Angeles with his wife Britni and daughter Ava.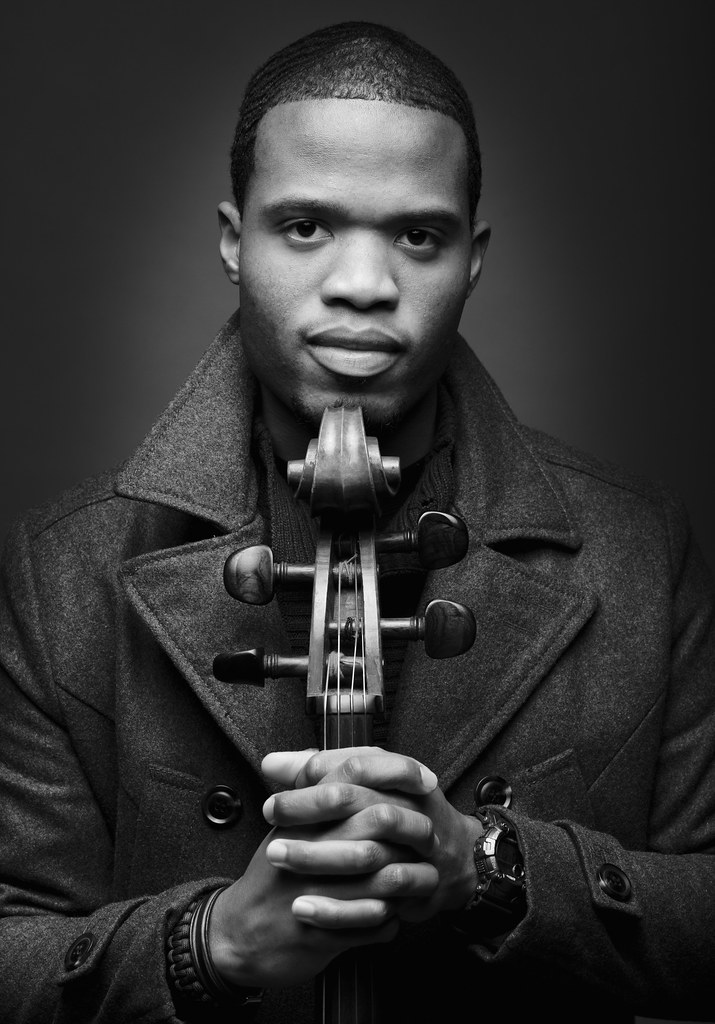 Ashley Glovier
Executive Assistant and Office Manager
Originally from south central Pennsylvania, Ashley and her family took a giant leap of faith when they moved to the Seattle area in 2018, in part because they wanted to be around a more diverse community, as well as have their three children attend a school where all the other kids didn't look like them. Graduating from Eastern University with a dual major in youth ministries and theology in 2006, Ashley began her career in camp ministry at Kenbrook, serving as the program director. In 2011, Ashley took on the most challenging role of her life — being a stay-at-home mom to three children under the age of 4. During that time, she received her personal training certification, served as a substitute teacher, taught group fitness classes at her local YMCA and volunteered with the PTO. The experience she gained in these positions, as well as managing a bustling household, has prepared her well for this position, and she looks forward to serving on a wonderful team.
Bernard Ablola, Founder, Think Strategy
Brenda Barnes, CEO of Classical King FM
Chris Tugwell, CEO, Be Well Consulting
Stephanie Ellis-Smith, CEO Phila Giving
Vivian Phillips, Arts Consultant
Marcie Maxwell, Community Leader
Peter Drury, Chief Strategy Officer, Wellspring Family Services