GROUP LESSONS – OUR MOST POPULAR!
Great for students who want to make progress in a fun, collaborative environment with peers who share their love for music.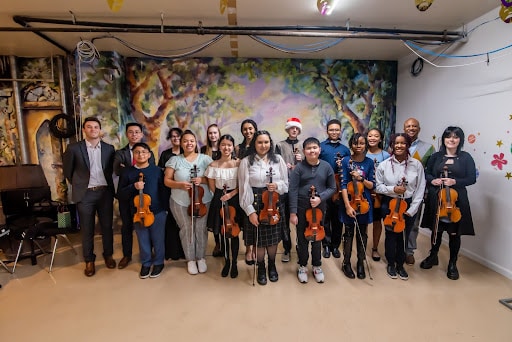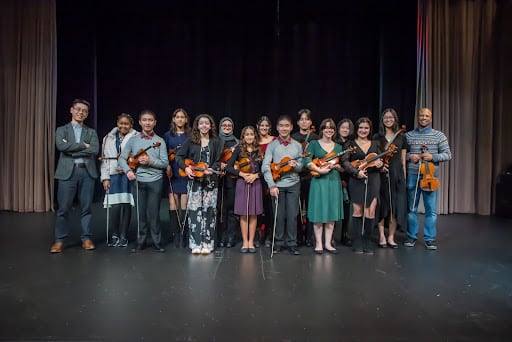 Group violin and viola lessons are held twice a week on Mondays and Thursdays between 3-8pm. Group lessons have 5-12 students per class and student placement into each class is based on musical ability and teacher recommendation. Students must commit to attending lessons twice a week. 
Please note: Students who are not able to attend group lessons twice per week or attend the assigned group lesson class should consider taking private lessons or registering for group lessons in a different trimester. 
Pictured: Some of our students from our group string classes from our Holiday String Concert at Carco Theater 2021.
Group lessons options
Allegro Group Class – $500/trimester
Beginner violin and viola class. Covers String Basics Book 1 and some group ensemble. Students who have been playing for two or less years are welcome. 
Meets Mondays and Thursdays (5-5:30pm) for 30 minutes
George "Bridgetower" Group Class – $1,000/trimester
Covers two-octave scales, String Basics Books 1 and 2, Suzuki Book 1 and 2 and other small pieces. 
Meets Mondays and Thursdays (7-8pm) for one hour
Joseph White Group Class – $1,000/trimester
Covering String Basics Books 2 & 3 and repertoire from Suzuki Book 2 and 3 and violin concertinos. Some shifting and vibrato. 
Meets Mondays and Thursdays (4-5pm) for one hour
Chevalier de "Saint-Georges" Group Class – $1,000/trimester
Intermediate violin and viola class. Covers intermediate concertos, group violin and viola ensemble pieces, shifting, vibrato, scales and other technical works. Listen to a class rehearsal here. 
Meets Mondays and Thursdays (6-7pm) for one hour
Frequently asked questions and information on our studio policy can be found in the tabs below.
PRIVATE LESSONS – POPULAR PACKAGE!
Excellent for students who want individualized attention to learn at their own pace in a supportive, fun and engaging environment!
Cost: $1,500/trimester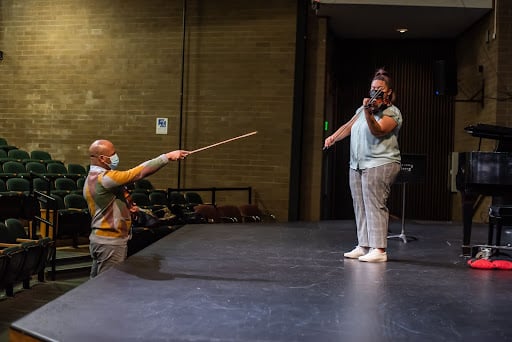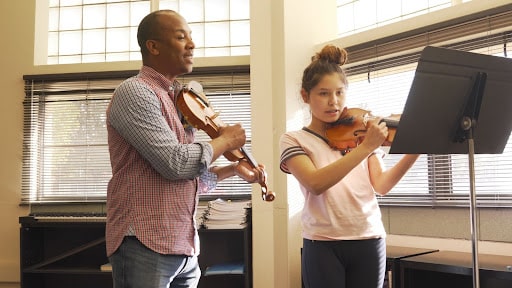 Dr. Morris coaching a student (top) before a performance and (bottom) him working with a younger student during a private lesson.
Take personalized 60 minute music lessons with Dr. Morris and learn your instrument in a private, personalized environment where you can learn at your own pace and not feel pressured in an atmosphere that can feel intimidating. Make great progress, gain confidence, and feel good about your playing on stage!
In addition to weekly lessons, students also attend 7 studio classes each trimester with other private lesson students where they play and receive feedback, furthering their musical development. Studio classes are mandatory for all private lesson students and may be observed by group lesson students. Students learn two and three octave scales, etudes, double stops, concertos, sonatas and other solo pieces for violin or viola. 
Students who take private lessons tend to make faster, more noticeable progress than those who take group lessons. 
Our private students' wonderful accomplishments include:
– Performing as a soloist with regional orchestras, including Northwest Symphony Orchestra and Tacoma Community College Chamber Orchestra 
– Performing on Unmute The Voices video series (watch Eden and Amariah perform)
– Opening for the Seattle Symphony (watch Jasmine, Alia and Amariah's opening performances)
– Performing on Classical KING FM 98.1's Northwest Focus LIVE 
– Advancing to the Washington State All-State Contest 
– Becoming concertmasters (first chairs) of their school orchestras or local youth symphonies
– Winning first place in our annual Solo String Festival
– Attending the Peabody Conservatory of Music at Johns Hopkins University and the University of Washington
Frequently asked questions and information on our studio policy can be found in the tabs below.
PRIVATE & GROUP "COMBO" – STARTING SEPTEMBER 2022!
Cost: $1,750/trimester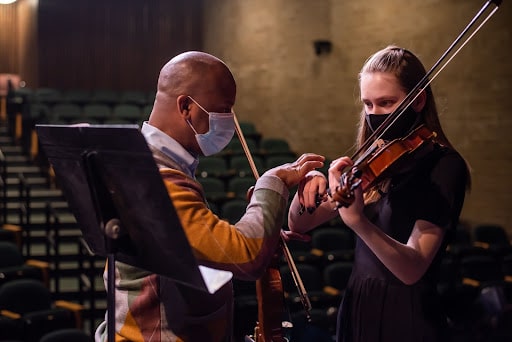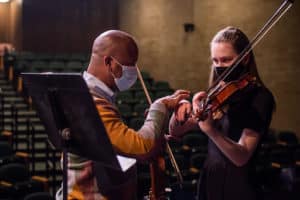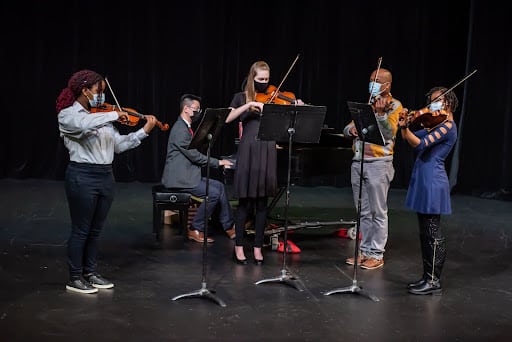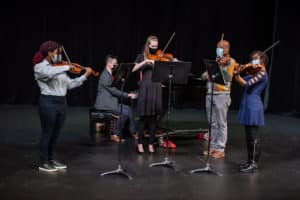 Beginning this fall, violin and viola students have the option of taking a combination of individual and group lessons. Students take group lessons (twice per week) and may take a bi-weekly private lesson. This allows students to receive one-on-one attention occasionally, while enjoying the group lesson atmosphere and camaraderie. Students are able to apply what they've learned in their private lessons directly in a group lesson environment. 
Frequently asked questions and information on our studio policy can be found in the tabs below.
YOUNG ARTIST ACADEMY
BEGINNING SEPTEMBER 2022!
One year commitment required
To commemorate our fifth year anniversary and our new partnership with the Seattle Symphony, we are pleased to launch our Young Artist Academy for middle and high school students who play the violin or viola and live in South King County. Our Young Artist Academy is housed within our string studio and provides a safe space for students who are enthusiastic, self motivated and disciplined to learn their instrument at a high level. Young Artist Academy students will receive individual music instruction, tailored specifically to their personal and musical interests. All participants will participate in special masterclasses with our guest artists and members of the Seattle Symphony. Accepted students will receive an instrument to use from the Key to Change instrument library, attend special events and activities sponsored by the Seattle Symphony, and have numerous performance opportunities. All Young Artist Students will compete in the inaugural concerto competition in our Solo String Festival where one student winner will be selected to make their professional debut as a soloist with the Seattle Symphony during their Community Concerts series.
What you receive as a Young Artist Academy Student
Individual lessons twice a week with Dr. Quinton Morris, which includes one lesson with our studio pianist
Access to perform in guest artist masterclasses, which include members of the Seattle Symphony
An exclusive opportunity to compete in the concerto Competition at the 2023 Solo String Festival. One winner will make their solo concerto debut with the Seattle Symphony
An invitation to perform in a pre-concert performance of a Seattle Symphony Free Community concert
An exclusive "Academy" concert for Young Artist Academy participants only 
Attend an open rehearsal with the Seattle Symphony
Attend a workshop on Career in the Arts with members of the Seattle Symphony
A visit of Benaroya Hall to meet the musicians and staff of the Seattle Symphony
Free tickets to Seattle Symphony's Masterworks series concerts (subject to availability)
Opportunities to perform as a soloist with local community orchestras
Access to play on a Key to Change instrument as an academy student (must be responsible for maintenance fees)
Access to participate in UNCF's Portfolio Project, a college preparatory program for high school students
The Long-Term benefits of being a Young Artist Academy student
You will learn skills that will help you become a more confident and disciplined student
Your understanding of music and the greater world will mature exponentially
Your overall memory will improve greatly
You will learn how to pay attention to detail that will make you a competitive musician and student
Your individualized private lessons will yield positive results that are transferable to other areas of your life and study
You will become a more responsible student through learning our musically and academically rich curriculum
You will learn how to problem solve and analyze music and various situations that will give you excellent critical thinking skills
You will learn how to become an active, caring citizen through participating in our community outreach programs
You will learn how to collaborate with other musicians through regular rehearsals with our studio accompanist
You will be able to list this program on your college application demonstrating your ability to be a well-rounded, driven and determined individual
Masterclasses with renowned professional musicians and teachers
Commit to practicing to 1-1.5 hours per day 4 days a week; 2-3 hours per day on the weekends
Complete all assignments
May not miss more than 4 lessons per trimester
Attend all major concerts and events for academy students and studio students 
Maintain a 3.0 grade point average (must submit report card each trimester)
Commit to one year to reach full potential
To apply, submit a YouTube audition recording with a scale (2 or 3 octaves), etude and a piece of the student's choice as well as a 250 to 500 word personal essay describing how you believe you'd benefit from being an academy student.
Merit and need-based scholarships are available for qualified students.
Other frequently asked questions and information on our studio policy can be found in the tabs below.
GENERAL FAQ'S
What is the age range of students at Key to Change?
Our studio serves middle and high school students ages 12-18. We will accept students who are age 11 as long as they are in 6th grade. Many of our students enroll in middle school and continue until they have graduated from high school.
What areas does Key to Change serve?
Key to Change serves students in all of South King County: Auburn, Burien, Covington, Enumclaw, Federal Way, Kent, Maple Valley, Muckleshoot Reserve, Normandy Park, Renton, Seatac, Skyway, White Center 
When are lessons offered?
Lessons are offered Monday through Thursday between the hours of 2pm-8pm. We do not provide lessons on the weekends, except for some rehearsals that are scheduled in advance
Where are lessons held?
All lessons are held at our string studio, which is located inside Hope Church NW. Our address is 200 SW Langston Road, Renton, WA 98057. 
Does Key to Change offer lessons other than violin?
We offer viola lessons as well. Students may sign up for private lessons or group lessons with other violinists. We do not teach any other instruments.
What is the difference between private and group lessons?
Private lessons are one-on-one tutorials with an instructor, while group classes are between six and fifteen students working with one instructor. Private lessons allow for the instructor to gauge progress and set a pace that meets the individual student's skills, abilities, and interests. Group lessons are more peer centered with students learning in a community environment. Group lessons are our most popular classes in our string studio. Students may also do a combination of group and individual lessons.
Does Key to Change offer scholarships?
Yes, Key to Change offers scholarships to students who demonstrate financial need. Students may apply for a need-based scholarship here. As part of the application process, a 1040 Tax Form for the current year must be submitted as well as the student's most recent report card, demonstrating a 2.5 GPA or higher.
We also provide a small number of merit-based scholarships for talented students who demonstrate hard work, dedication, and a positive attitude in their lessons, that is all based on teacher recommendation. Key to Change does not solicit applications for merit-based scholarships. 
What are the expectations of a student receiving a need-based scholarship?
Expectations of scholarship recipients: 
- Must attend all weekly lessons, master classes, outreach and studio performances 
- Must prepare weekly assignments from instructor 
- Maintain a 2.5 grade point average 
- Must exemplify a positive and healthy attitude and work ethic 
- Must commit to the three trimesters (one year) of lessons
Recipients in danger of losing their scholarships due to the following:
- Lack of preparation in personal practice 
- Excessive tardiness or more than 4 unexcused absences from lessons
- Poor or disruptive attitude.
- Lack of participation in fundraising, outreach or studio performances.
- Not maintaining a 2.5 grade point average (must provide most recent grades  from school at the beginning of each trimester - August, December, and April)
- Late payments on payment plan or parents/guardians not communicating regarding an extension
How can I apply for a scholarship?
Fill out all sections of the scholarship form and include the most recent 1090 Tax Form and the student's most recent grades, which include the cumulative GPA, as the information gathered through this form will allow us to assess each student's financial needs and award financial aid and scholarships accordingly. Please note: no scholarship applications will be considered without completing a student application form. 
What is Key to Change's lesson make up policy?
Due to our tight lesson schedule, lessons missed by the student for any reason are not able to be rescheduled. If the instructor cancels lessons, missed lessons will be rescheduled at some point in the trimester to assure each student receives their 14 full weeks of lessons (28 lessons for group and Young Artist Academy students, 14 lessons for private students). Please review our Studio Policy for additional information.
What if I miss my lesson?
We ask that you are mindful of your lesson commitment and do your best not to schedule any conflicting appointments. If you are unable to attend a lesson, please let the instructor know by email (info@keytochangestudio.org) at least one week beforehand. In the case of an emergency or last-minute cancellation, call or text our office at (425) 998-6058. Please note that more than four unexcused absences in a trimester will result in termination of lessons for those on scholarship.
When is tuition due?
Tuition is due on the first Friday at the beginning of each trimester. Families may set up a tuition payment plan, where they may make weekly, biweekly or monthly payments. Students who receive a scholarship are expected to commit to an entire year of lessons, and may set up a tuition payment plan if they are unable to pay the entire trimester's tuition at once. Please review our Studio Policy for more information.
What if I decide to stop taking lessons?
Key to Change will only reimburse families 100% of the tuition paid if the student decides to stop taking lessons prior to the end of the first week of lessons. No refunds will be issued after the first week of lessons. Families are responsible for paying the remaining balance of the trimester, even if they discontinue attending class. 
Do I need to own my own instrument?
If you do not have access to an instrument, you are welcome to rent an instrument from our violin library for $30.00 per month.
What other fees should I expect to pay?
Group lesson students' books and a bow buddy fees are included in the cost of tuition. There may be other expenses that arise depending on the individual need of the student and will be discussed directly with the parent on a case by case basis. Private lesson students are responsible for purchasing books and music for their lessons. The costs can range from $20 - 100 per year. 
How many lessons are in a trimester?
There are approximately 14 weeks in a trimester and the following chart outlines how many lessons according to the type of lessons offered: 
| | |
| --- | --- |
| NEW: Combo of Group & Private Lessons | 28 group lessons + 7 private lessons |
| Group Lessons for 60 or 30 minutes  | 28 lessons |
| NEW: Young Artist Academy | 28 lessons + 1 studio class + 6 master classes |
| Private Lessons  | 14 lessons + 7 studio classes  |
What are studio classes and masterclasses?
Studio classes are mandatory for all private lesson students. There are approximately 7 studio classes per trimester that last one and a half hours. They are open for observation to all other students and provide a great opportunity for beginner students to deepen their learning and to see what is possible. Some of these classes feature guest artists as a part of our masterclass series.
End of Trimester Concerts
Students are required to perform at the end of trimester concerts. These concerts will be held in Renton on: December 17, 2022 (end of fall trimester concert), April 14-16, 2023 (end of winter trimester) and August 19, 2023(end of spring/summer trimester). All students who receive a scholarship are required to participate in the End of Trimester Concerts. 
Student Placement in Group Classes
Students who enroll in group classes are placed in the appropriate course, which is based on skill level, not age. Some group classes have both middle and high school students in them, although most classes tend to have students in the same grades and/or age range. The instructor reserves the right to move students into other group classes who either advance or fall behind in course content. The goal is to properly place students in the appropriate class so they may make continued progress in an organic and musically fun way. 
Seattle Symphony Partnership
Students enrolled in our string studio will have opportunities to engage in activities for free, sponsored by the Seattle Symphony. These activities include observing Young Artist Academy students perform in masterclasses, receiving tickets to Seattle Symphony performances, attending an open dress rehearsal and various workshops. Students may only participate in the concerto competition or perform in the Pre-Concert Recital if they are Young Artist Academy students. 
What Can You Expect From Key to Change?
- We provide high-quality music instruction catered to each student
- We treat all students with care and respect
- We will be prepared and on-time for all scheduled lessons, classes, and performances
- We will return all phone calls and emails in a timely and professional manner
- We will always listen when you have a concern and do our best to resolve the issue
Expectations of Students & Parents
- Must have a computer or smartphone with camera
- Must have a strong internet connection and modem
- Be prepared and on-time for all scheduled lessons, classes, and performances
- Be respectful of all students, teachers, and guest artists
- Practice your repertoire outside of lessons and complete practice assignments by the scheduled due dates
- Do your best not to miss any lessons or performances–if you must miss class, please notify us by phone or email at least one week in advance
- Check your email regularly during the session for announcements regarding recital dates, lesson scheduling, snow-day closings, and other lesson details
- Let us know if you see a way we can improve our services–we will always strive to be our best!
Cancellations or Missed Lessons
Cancellations by Instructor:
- If we cancel for any reason, we will make up your missed lesson or credit the cost of that lesson back to you.
- By default, we do not have lessons on national holidays unless otherwise stated.
- Cancellation of lessons due to unsafe weather conditions will be up to the discretion of the instructor.

Cancellations by Student/Parent:
- Teachers are not required to make up a lesson missed by the student for any reason.
- If you are unable to attend a lesson, please let us know by phone or email at least one week beforehand.
- More than four unexcused absences in a session will result in termination of lessons.
Liability Waiver
- Key to Change is not responsible for any lost, stolen, or damaged belongings.
- We work hard to create safe spaces for lessons and performances. In the event that something bad happens, we promise to provide support to our students to the best of our ability.
Child Protection Policy
In order to create and maintain a safe, positive learning environment for all children, we are committed to putting these measures in place:
- During all private music lessons, the instructor will teach in a room with the door open.
- Parents are always welcome to stay in a waiting area within earshot of a private lesson. If they find it necessary, a parent may check the open door at any time without disturbing the lesson.
- Bullying or fighting between students will not be tolerated.
Additional Fees
We strive to keep our costs at a minimum, however, over the course of the session students may need to spend additional money on the following tools and accessories:
- Sheet music or music books
- Strings
- Recital clothing
- Metronome
- Notebook
- Pencils
Electronic Communication Policy
Important announcements will be communicated with students and parents via email. It is expected that students and parents will check their email regularly for updates regarding recital dates and details, snow-day closings, schedule changes, and other lesson details. In the case of an emergency or last-minute schedule change, students and parents may be notified by phone.
Parents and students are encouraged to contact the instructor by phone, email, or in person if they have any questions or concerns with lessons or scheduling.
Scholarship Policy
Key to Change is pleased to offer scholarships to deserving students, with the expectation that scholarship recipients will demonstrate hard work, dedication, and a positive attitude in their lessons. Failure to meet these expectations will result in loss of scholarship.
Scholarship recipients are expected to complete all practice assignments, attend all lessons, and serve as positive role models for other students. More than three unexcused absences in a semester will result in loss of scholarship. Students must maintain at least a 2.5 GPA in order to keep their scholarship.
Share this on Social Media